CD-ROM


Wildlife of the Deep Antarctic
Antarctic Interactive Collection, Volume 1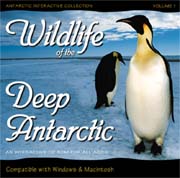 Imagine yourself in a world that is covered with ice, where only the hardiest creatures can withstand the bitter cold and hurricane-force winds. Imagine yourself standing at the edge of a breathing hole in the frozen surface of the sea as giant killer whales rise out of the water, only inches away.

Travel with us to this world, the world of McMurdo Sound in Antarctica's Ross Sea, where you'll meet five of the most southerly naturally occurring animals on Earth. You'll learn about them through fact sheets, narrated text, stunning photographs, and never-before-seen videos, including rare footage of killer whales and penguins underwater. You will even hear the animals in their own voices--the raucous mating call of adelie penguins, the majestic trumpet of the emperor penguin, and the haunting, otherworldly cries of weddell seals.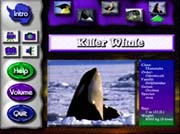 Whether you're interested in Antarctica or just in wildlife, this volume is both a valuable educational tool and an essential addition to your CD collection.
Price: $24.95
Compatible with Windows and Macintosh


Minimum System Requirements

Windows: cdrom drive, 486 processor, color monitor, 8 megabytes ram, sound card

Macintosh: cdrom drive, 68030 processor, system 7.0 or later, color


How to Order

Order direct from MastroMedia. Simply fill out the order form.
Order from one of our retail outlets listed below:



Please contact us for more information: info@mastromedia.com
Book Store


Antarctica - A Year at the Bottom of the World
By Jim Mastro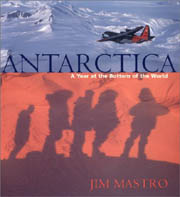 Experience the strange beauty of Antarctica through photographs and exciting personal anecdotes that take armchair travelers and future explorers right to the edge of the ice! In his breathtaking book, Jim Mastro describes his striking year-long account of what it's like to exist at the bottom of the world, complete with photographs, captions, and his own dramatic, personal narrative. Experience face-to-face encounters with pods of killer whales, deadly winter storms, and floes of gray ice. Endure the lonely isolation during four months of utter darkness. Enjoy the anticipation and warmth of the world's shortest summer. Jim Mastro takes you there to face the challenges and adventures that he survived.

Hardcover: 176 pages ; Dimensions (in inches): 0.77 x 11.24 x 10.36
Publisher: Bulfinch Press; ISBN: 0821227548; (June 2002)


How to Order

Order direct from the following online bookstores.